Please follow and like us:
Recall from prior posts (here, here, and here) that seven teachers in the Houston Independent School District (HISD), with the support of the Houston Federation of Teachers (HFT), are taking HISD to federal court over how their value-added scores, derived via the Education Value-Added Assessment System (EVAAS), are being used, and allegedly abused, while this district that has tied more high-stakes consequences to value-added output than any other district/state in the nation. The case, Houston Federation of Teachers, et al. v. Houston ISD, is ongoing.
But just announced is that the HISD school board, in a 3:3 split vote late last Thursday night, elected to no longer pay an annual $680K to SAS Institute Inc. to calculate the district's EVAAS value-added estimates. As per an HFT press release (below), HISD "will not be renewing the district's seriously flawed teacher evaluation system, [which is] good news for students, teachers and the community, [although] the school board and incoming superintendent must work with educators and others to choose a more effective system."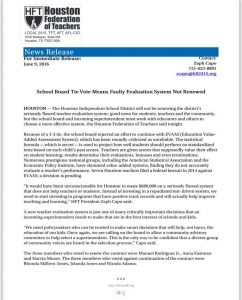 Apparently, HISD was holding onto the EVAAS, despite the research surrounding the EVAAS in general and in Houston, in that they have received (and are still set to receive) over $4 million in federal grant funds that has required them to have value-added estimates as a component of their evaluation and accountability system(s).
While this means that the federal government is still largely in favor of the use of value-added model (VAMs) in terms of its funding priorities, despite their prior authorization of the Every Student Succeeds Act (ESSA) (see here and here), this also means that HISD might have to find another growth model or VAM to still comply with the feds.
Regardless, during the Thursday night meeting a board member noted that HISD has been kicking this EVAAS can down the road for 5 years. "If not now, then when?" the board member asked. "I remember talking about this last year, and the year before. We all agree that it needs to be changed, but we just keep doing the same thing." A member of the community said to the board: "VAM hasn't moved the needle [see a related post about this here]. It hasn't done what you need it to do. But it has been very expensive to this district." He then listed the other things on which HISD could spend (and could have spent) its annual $680K EVAAS estimate costs.
Soon thereafter, the HISD school board called for a vote, and it ended up being a 3-3 tie. Because of the 3-3 tie vote, the school board rejected the effort to continue with the EVAAS. What this means for the related and aforementioned lawsuit is still indeterminate at this point.