Please follow and like us:
Last November, I published a post about "Houston's "Split" Decision to Give Superintendent Grier $98,600 in Bonuses, Pre-Resignation." Thereafter, I engaged some of my former doctoral students to further explore some data from Houston Independent School District (HISD), and what we collectively found and wrote up was just published in the highly-esteemed Teachers College Record journal (Amrein-Beardsley, Collins, Holloway-Libell, & Paufler, 2016). To view the full commentary, please click here.
In this commentary we discuss HISD's highest-stakes use of its Education Value-Added Assessment System (EVAAS) data – the value-added system HISD pays for at an approximate rate of $500,000 per year. This district has used its EVAAS data for more consequential purposes (e.g., teacher merit pay and termination) than any other state or district in the nation; hence, HISD is well known for its "big use" of "big data" to reform and inform improved student learning and achievement throughout the district.
We note in this commentary, however, that as per the evidence, and more specifically the recent release of the Texas's large-scale standardized test scores, that perhaps attaching such high-stakes consequences to teachers' EVAAS output in Houston is not working as district leaders have, now for years, intended. See, for example, the recent test-based evidence comparing the state of Texas v. HISD, illustrated below.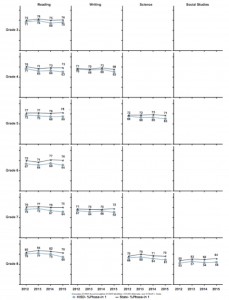 "Perhaps the district's EVAAS system is not as much of an "educational-improvement and performance-management model that engages all employees in creating a culture of excellence" as the district suggests (HISD, n.d.a). Perhaps, as well, we should "ponder the specific model used by HISD—the aforementioned EVAAS—and [EVAAS modelers'] perpetual claims that this model helps teachers become more "proactive [while] making sound instructional choices;" helps teachers use "resources more strategically to ensure that every student has the chance to succeed;" or "provides valuable diagnostic information about [teachers' instructional] practices" so as to ultimately improve student learning and achievement (SAS Institute Inc., n.d.).
The bottom line, though, is that "Even the simplest evidence presented above should at the very least make us question this particular value-added system, as paid for, supported, and applied in Houston for some of the biggest and baddest teacher-level consequences in town." See, again, the full text and another, similar graph in the commentary, linked  here.
*****
References:
Amrein-Beardsley, A., Collins, C., Holloway-Libell, J., & Paufler, N. A. (2016). Everything is bigger (and badder) in Texas: Houston's teacher value-added system. [Commentary]. Teachers College Record. Retrieved from http://www.tcrecord.org/Content.asp?ContentId=18983
Houston Independent School District (HISD). (n.d.a). ASPIRE: Accelerating Student Progress Increasing Results & Expectations: Welcome to the ASPIRE Portal. Retrieved from http://portal.battelleforkids.org/Aspire/home.html
SAS Institute Inc. (n.d.). SAS® EVAAS® for K–12: Assess and predict student performance with precision and reliability. Retrieved from www.sas.com/govedu/edu/k12/evaas/index.html