Please follow and like us:
On this election day, the state of Missouri is worth mentioning as it has a very relevant constitutional amendment on its ballot for the day. As featured on Diane Ravitch's blog a few days ago here, this (see below) is "the worst constitutional amendment to appear on any state ballot in 2014."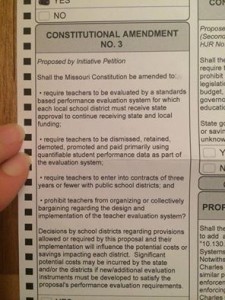 "It ties teacher evaluation to student test scores. It bans collective bargaining about teacher evaluation. It requires teachers to be dismissed, retained, promoted, demoted, and paid based primarily on the test scores of their students. It requires teachers to enter into contracts of three years or less, thus eliminating seniority and tenure.
This is VAM with a vengeance.
This ballot resolution is the work of the far-right Show-Me Institute, funded by the multi-millionaire Rex Sinquefeld. He is a major contributor to politics in Missouri and to ALEC.
The Center for Media and Democracy writes about him:
'Sinquefield is doing to Missouri what the Koch Brothers are doing to the entire country. For the Koch Brothers and Sinquefield, a lot of the action these days is not at the national but at the state level.'
'By examining what Sinquefield is up to in Missouri, you get a sobering glimpse of how the wealthiest conservatives are conducting a low-profile campaign to destroy civil society.'
'Sinquefield told The Wall Street Journal in 2012 that his two main interests are "rolling back taxes" and "rescuing education from teachers' unions.'

'His anti-tax, anti-labor, and anti-public education views are common fare on the right. But what sets Sinquefield apart is the systematic way he has used his millions to try to push his private agenda down the throats of the citizens of Missouri."