Please follow and like us:
I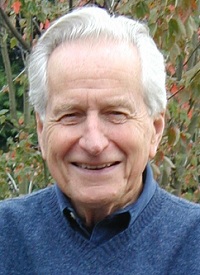 t saddens me to announce, for those of you who do not already know, that the wonderful educational scholar and person, Dr. John Goodlad, passed away last week at the age of 94 due to cancer.
John Goodlad was Professor Emeritus and co-founder of the Center for Educational Renewal at the University of Washington as well as President of the Institute for Educational Inquiry in Seattle. While he had previously held faculty positions at Emory University, the University of Chicago, and the University of California at Los Angeles, Goodlad first taught in a one-room, eight-grade school house in British Columbia, Canada. His experiences as a classroom teacher encouraged his later educational research examining grading procedures, curriculum inquiry, the functions of schooling, and teacher education.
To read an article just published about Dr. Goodlad's passing in The New York Times click here. To read an article released a few days prior to that and released by the American Educational Research Association (AERA) click here.
I had the pleasure of getting to know John when I interviewed him about on his houseboat outside of Seattle three years ago, about not only his scholarly accomplishments but also his extraordinary professional and personal life and history. To view a short video of this interview, please see this three minute YouTube clip of the interview highlights here. To view more, including the full interview, his photo gallery, reflections of his family and friends, etc. please visit his page on the the Inside the Academy website here.
Some of the highlights from the interview as they relates to the purposes of this blog here follow:
The first was when Goodlad expressed his deep disappointment in schools today that focus almost exclusively on the direct impact of teachers on student learning. He argued that the functions of schooling also include interactions with families and the zeitgeist or spirit of a school, that matter excessively more than that which can be captured on a test, and thereafter used to measure a teacher's or a school's effectiveness.
Second, and citing more than 100 years of research, he was convinced that grade retention (e.g., when students did not past certain tests) was detrimental to students both academically and socially; hence, through most of his career Goodlad served as an advocate for nongraded elementary schools.
Finally, when recognized for his groundbreaking study of more than 1,000 schools across the United States in A Place Called School (1984), Dr. John Goodlad recalled an article about his book featured on the front page of the New York Times. Despite his message of optimism and improvement, Goodlad explained that most reporters contacted him after publication, requesting more "dirt" on schools. Seemingly little has changed in this regard.
Carefully noting the need for educational renewal rather than reform, Goodlad described collaboration among teachers and parents as the most meaningful way to improve American schools. Praising these stakeholders as vital to the renewal process, Goodlad insisted that "agency must be closest to the child."