Please follow and like us:
Approximately two weeks ago, House leaders in the state of Oklahoma unanimously passed House Bill 2957, in which the state's prior requirement to use value-added model (VAM) based estimates for teacher evaluation and accountability purposes, as written into the state's prior Teacher and Leader Effectiveness (TLE) evaluation system, was eliminated. The new bill has been sent to Oklahoma's Governor Fallin for her final signature.
As per the State's Superintendent of Public Instruction, Joy Hofmeister: "Amid this difficult budget year when public education has faced a variety of challenges, House Bill 2957 is a true bright spot of this year's legislative session…By giving districts the option of removing the quantitative portion of teacher evaluations, we not only increase local control but lift outcomes by supporting our teachers while strengthening their professional development and growth in the classroom."
As per the press release issued by one of the bill's sponsors, State Representative Michael Rogers, the bill is to "retain the qualitative measurements, which evaluate teachers based on classroom instruction and learning environment. The measure also creates a professional development component to be used as another qualitative tool in the evaluation process. The Department of Education will create the professional development component to be introduced during the 2018-2019 school year. "Local school boards are in the best position to evaluate what tools their districts should be using to evaluate teachers and administrators," he said. "This bill returns that to our local schools and removes the 'one-size-fits-all' approach dictated by government bureaucrats. This puts the focus back to the education of our students where it belongs." School districts will still have the option of continuing to use VAMs or other numerically-based student growth measures when evaluating teachers, however, if they choose to do so, and agree to also pay for the related expenses.
Oklahoma State Representative Scooter Park said that "HB2957 is a step in the right direction – driven by the support of Superintendents across the state, we can continue to remove the costly and time-consuming portions of the TLE system such as unnecessary data collection requirements as well as open the door for local school districts to develop their own qualitative evaluation system for their teachers according to their choice of a valid, reliable, research based and evidence-based qualitative measure."
Oklahoma State Senator John Ford, added that this bill was proposed, and this decision was made, "After gathering input from a variety of stakeholders through a lengthy and thoughtful review process."
I am happy to say that I was a contributor during this review process, presenting twice to legislators, educators, and others at the Oklahoma State Capitol this past fall. See one picture of these presentations here.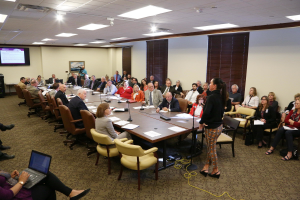 See more here, and a related post on Diane Ravitch's blog here. See here more information about the actual House Bill 2957. See also a post about Hawaii recently passing similar legislation in the blog, "Curmudgucation," here. See another post about other states moving in similar directions here.