Please follow and like us:
"A Concerned New Mexico Parent" sent me another blog entry for you all to help you all stay apprised of the ongoing "situation" in New Mexico with its New Mexico Public Education Department (NMPED). See "A Concerned New Mexico Parent's" prior posts here, here, and here, but in this one (s)he writes a response to an editorial that was recently released in support of the newest version of New Mexico's teacher evaluation system. The editorial was titled: "Teacher evals have evolved but tired criticisms of them have not," and it was published in the Albuquerque Journal, as also written by the Albuquerque Journal Editorial Board themselves.
(S)he writes:
The editorial seems to contain and promote many of the "talking points" provided by NMPED with their latest release of teacher evaluations. Hence, I would like to present a few observations on the editorial.
NMPED and the Albuquerque Journal Editorial Board both underscore the point that teachers are still primarily being (and should primarily continue to be) evaluated on the basis of their own students' test scores (i.e., using a value-added model (VAM)), but it is actually not that simple. Rather, the new statewide teacher evaluation formula is shown here on their website, with one notable difference being that the state's "new system" now replaces the previously district-wide variations that produced 217 scoring categories for teachers (see here for details).
Accordingly, it now appears that NMPED has kept the same 50% student achievement, 25% observations, and 25% multiple measures division as before. The "new" VAM, however, requires a minimum of three years of data for proper use. Without three years of data, NMPED is to use what it calls graduated considerations or "NMTEACH" steps to change the percentages used in the evaluation formulas by teacher type.
A small footnote on the NMTEACH website devoted to teacher evaluations explains these graduated considerations whereby "Each category is weighted according to the amount of student achievement data available for the teacher. Improved student achievement is worth from 0% to 50%; classroom observations are worth 25% to 50%; planning, preparation and professionalism is worth 15% to 40%; and surveys and/or teacher attendance is worth 10%." In other words student achievement represents between 0 and 50% of the total, observations comprise somewhere between 14% and 40% of the total, and teacher attendance comprises 10%.
The graduated considerations (Steps) are shown below, as per their use when substitutions are needed when student achievement data are missing: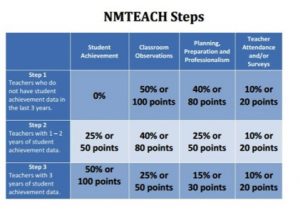 Also, the NMTEACH "Steps" provide for the use of one year of data (Step 2 is used for 1-2 years of data.) I do not see how NMPED can calculate "student improvement" based on just one year's worth of data.
Hence, this data substitution problem is likely massive. For example, for Category A teachers, 45 of the 58 formulas formerly used will require Step 1 substitutions. For Category B teachers, 112 of 117 prior formulas will require data substitution (Step 1), and all Category C teachers will require data substitution at the Step 1 level.
The reason that this presents a huge data problem is that the state's prior teacher evaluation system did not require the use of so much end-of-course (EOC) data, and so the tests were not given for three years. Simultaneously and for Group C teachers, NMPED also introduced an new evaluation assessment plus software called iStation that is also in its first year of use.
Thus, for a typical Category B teacher, the evaluation will be based on 50% observation, 40% planning, preparation, and professionalism, and 10% on attendance.
Amazingly, none of this relates to student achievement, and it looks identical to the former administrator-based teacher evaluation system!
Such a "bait-and-switch" scheme will be occurring for most teachers in the state.
Further, in a small case-study I performed on a local New Mexico school (here), I found that not one single teacher in a seven-year period had "good" data for three consecutive years. This also has major implications here given the state's notorious issues with their data, data management, and the like.
Notwithstanding, the Editorial Board also notes that "The evaluations consider only student improvement, not proficiency." However, as noted above little actual student achievement is actually available for the strong majority of all teachers' evaluation; hence, the rate by which this will actually count (versus perhaps appear to count to the public) are two very distinctively different things.
Regardless, the Editorial Board thereafter proclaims that "The evaluations only rate teachers' effect on their students over a school year…" Even the simple phrase "school year" is also problematic, however.
The easiest way to explain this is to imagine a student in a dual language program (a VERY common situation in New Mexico). Let's follow his timeline of instruction and testing:
August 2015: The student begins the fourth grade with teachers A1 and A2.
March 2016: Seven months into the year the student is tested with test #1 at the 4th-grade level.
March 2016 – May 2016: The student finishes fourth grade with Teachers A1 and A2
June 2016 – Aug 2016: Summer vacation — no tests (i.e., differential summer learning and decay occurs)
August 2016: The student begins the fifth grade with teachers B1 and B2.
March 2017: Seven months into the year the student is tested with test #2 at the 5th-grade level.
March 2017 – May 2017: The student finishes fifth grade with Teachers B1 and B2
October 2017: A teacher receives a score based on this student's improvement (along with other students like him, although coming from different A level teachers) from test#1 to test#2
To simplify, the test improvement is based on a test given before he has completed the grade level of interest with material taught by four teachers at two different grade levels over the span of one calendar year [this is something that is known in the literature as prior teachers' residual effects].
And it gets worse. The NMPED requires that a student be assigned to only one teacher. According to the NMTEACH FAQ, in the case of team-teaching, "Students are assigned to one teacher. That teacher would get credit. A school could change teacher assignment each snapshot and thus both teachers would get counted automatically."
I can only assume the Editorial Board members are brighter than I am because I cannot parse out the teacher evaluation values for my sample student.
Nevertheless, the Editorial Board also gushes with praise regarding the use of teacher attendance as an evaluation tool. This is just morally wrong.
Leave is not "granted" to teachers by some benevolent overlord. It is earned and is part of the union contract between teachers and the state. Imagine a job where you are told that you have two weeks vacation time but, of course, you can only take two days of it or you might be fired. Absurd, right? Well, apparently not if you are NMPED.
This is one of the major issues in the ongoing lawsuit, where as I recall, one of the plaintiffs was penalized for taking time off for the apparently frivolous task of cancer treatment! NMPED should be ashamed of themselves!
The Editorial Board also praises the new, "no lag time" aspect of the evaluation system. In the past, teacher evaluations were presented at the end of the school year before student scores were available. Now that the evaluations depend upon student scores, the evaluations appear early in the next school year. As noted in the timeline above, the lag time is still present contrary to what they assert. Further, these evaluations now come mid-term after the school-year has started and teacher assignments have been made.
In the end, and again in the title, the Editorial Board claims that the "Teacher evals have evolved but tired criticisms of them have not."
The evals have not evolved but have rather devolved to something virtually identical to the former observation and administration-based evaluations. The tired criticisms are tired precisely because they have never been adequately answered by NMPED.
~A Concerned New Mexico Parent