Please follow and like us:
Many of you might recall that just over two years ago my book titled "Rethinking Value-Added Models in Education: Critical Perspectives on Tests and Assessment-Based Accountability," was officially released. Another book that I co-edited along with Kimberly Kappler-Hewitt — Assistant Professor at the University of North Carolina at Greensboro — was also just released.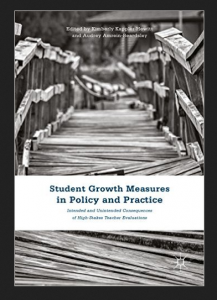 For those of you who might be interested, within this new book — "Student Growth Measures in Policy and Practice: Intended and Unintended Consequences of High-Stakes Teacher Evaluations" — we along with 14 total chapter authors representing multiple states across the U.S. (e.g., Henry Braun, Sean Corcoran, Jonathan Eckert, Drew Gitomer, Michael Hansen, Jessica Holloway, Margaret Plecki, Benjamin Superfine) examine "the intersection of policy and practice in the use of student growth measures (SGMs [e.g., value-added models (VAMs)]) for high-stakes purposes as per such educator evaluation systems." We also examine "educators' perceptions of and reactions to the use of SGMs; ethical implications pertaining to the use of SGMs; contextual challenges when implementing SGMs; and legal implications of SGM use" pre and post the passage of the Every Student Succeeds Act (ESSA).
As we all know, pre and post ESSA, the use of student test score data has been the cornerstone of really the past decade's transfiguration of teacher evaluation and accountability systems; hence, for those of you who might be interested, this book will hopefully be of "added value" in terms of our collective understandings about SGMs/VAMs use and applications, from policy to practice.
The book is 291 pages, 14 chapters, and it was published by Palgrave Macmillan, United Kingdom, at an (unfortunately high) cost of $94. For more information click here.