Please follow and like us:
My book on "Rethinking Value-Added Models…" was featured last night, on HBO's Last Week Tonight with John Oliver.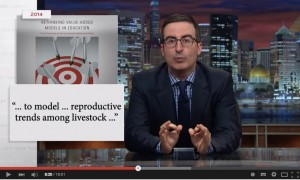 Holy cow!! Literally!!
Perhaps more importantly, though [insert smiley face emoji here], is the 18 minute series in which the book is mentioned (at the 8:20 point) — all about Standardized Testing. Click on the YouTube video below to watch the whole show.
This 18 minutes includes information on the educational policies supporting the history of high-stakes standardized tests in the U.S., how educational policymakers (including U.S. Presidents G.W. Bush and Obama) have unwaveringly "advanced" this history, how our nation's over-reliance on such test-based policies have done nothing for our nation for the past ten years (as cited in this clip, even though they have really done little to nothing for now more than 30 years), how and why the opt-out movement is still sweeping the nation, and the like. Also prominent is Florida Teacher Luke Flint's "Story" about his VAM Scores (also covered here).
This is a must watch, and funny!! Funny as it can be, of course, given the currently serious situation. The video's content is a bit, let's say edgy too though, so please be advised.