Please follow and like us:
Last spring, Eduardo Porter – writer of the Economic Scene column for The New York Times – wrote an excellent article, from an economics perspective, about that which is happening with our current obsession in educational policy with "Grading Teachers by the Test" (see also my prior post about this article here; although you should give the article a full read; it's well worth it). In short, though, Porter wrote about what economist's often refer to as Goodhart's Law, which states that "when a measure becomes the target, it can no longer be used as the measure." This occurs given the great (e.g., high-stakes) value (mis)placed on any measure, and the distortion (i.e., in terms of artificial inflation or deflation, depending on the desired direction of the measure) that often-to-always comes about as a result.
Well, it's happened again, this time in Miami-Dade, Florida, where the Miami-Dade district's teachers are saying its now "getting harder to get a good evaluation" (see the full article here). Apparently, teachers evaluation scores, from last to this year, are being "dragged down," primarily given teachers' students' performances on tests (as well as tests of subject areas that and students whom they do not teach).
"In the weeks after teacher evaluations for the 2015-16 school year were distributed, Miami-Dade teachers flooded social media with questions and complaints. Teachers reported similar stories of being evaluated based on test scores in subjects they don't teach and not being able to get a clear explanation from school administrators. In dozens of Facebook posts, they described feeling confused, frustrated and worried. Teachers risk losing their jobs if they get a series of low evaluations, and some stand to gain pay raises and a bonus of up to $10,000 if they get top marks."
As per the figure also included in this article, see the illustration of how this is occurring below; that is, how it is becoming more difficult for teachers to get "good" overall evaluation scores but also, and more importantly, how it is becoming more common for districts to simply set different cut scores to artificially increase teachers' overall evaluation scores.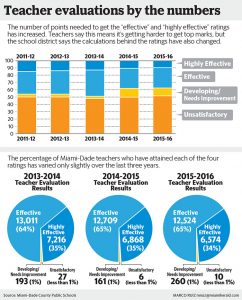 "Miami-Dade say the problems with the evaluation system have been exacerbated this year as the number of points needed to get the "highly effective" and "effective" ratings has continued to increase. While it took 85 points on a scale of 100 to be rated a highly effective teacher for the 2011-12 school year, for example, it now takes 90.4."
This, as mentioned prior, is something called "artificial deflation," whereas the quality of teaching is likely not changing nearly to the extent the data might illustrate it is. Rather, what is happening behind the scenes (e.g., the manipulation of cut scores) is giving the impression that indeed the overall teacher system is in fact becoming better, more rigorous, aligning with policymakers' "higher standards," etc).
This is something in the educational policy arena that we also call "symbolic policies," whereas nothing really instrumental or material is happening, and everything else is a facade, concealing a less pleasant or creditable reality that nothing, in fact, has changed.
Citation: Gurney, K. (2016). Teachers say it's getting harder to get a good evaluation. The school district disagrees. The Miami Herald. Retrieved from http://www.miamiherald.com/news/local/education/article119791683.html#storylink=cpy