As per a video linked within this article just released by ABC News in Tennessee, another teacher, this time coming from Knox County, Tennessee, speaks to her school board about her teaching contract not being renewed.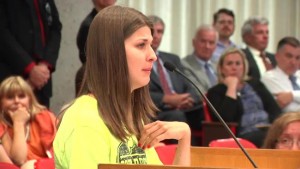 As per the article, teacher "Christina Graham taught kindergarten for three years at Copper Ridge Elementary. Last year she spoke out against SAT-10 testing for kindergartners. After her speech to the school board, Graham was called in to talk to her principal about being a representative for Knox County Schools. Graham said that was only time she was ever pulled in to talk about an issue, and she was told then that it wasn't a disciplinary meeting."
The only reason for her non-renewal? "She no longer fit the vision for that school."
Many parents and teachers are speaking out on her behalf, arguing her non-renewal is the district's way of retaliating against a teacher who spoke out. See, also, the district's official response here.