VAMboozled! is a blog about the issues surrounding teacher evaluation, teacher accountability, and value-added models (VAMs) in America's public schools. VAMboozled! is also about the related issues surrounding America's educational reform and accountability initiatives, and the federal and state policies being advanced, incentivized, adopted, and implemented across the nation. While other education blogs might focus on more general education topics, this blog is focused only on these issues, as current and controversial as they continuously are. The goal is to make more comprehensible and more accessible research-based information about these issues, and to better reach and inform teachers, administrators, policymakers, parents, students, and members of the general public, all of whom are stakeholders and who might ultimately be involved.
*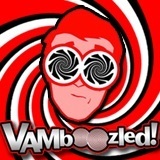 To stay current on these issues, to engage, to participate, to add to the professional dialogue, to offer solutions, and to add to our collective understandings about these topics, please subscribe (see the "Follow" button at the bottom right hand-side of every VAMboozled! page).
*
*
VAMboozled! Analytics (see also figure below):
November, 2013: Blog went live
May, 2014: Subscribers ≈ 3,000; Hits per month ≈ 50,000*
November, 2014: Subscribers ≈ 8,000; Hits per month ≈ 100,000*
May, 2015: Subscribers ≈ 13,000; Hits per month ≈ 160,000*
November, 2015: Subscribers ≈ 15,000; Hits per month ≈ 180,000*
***January, 2016: Every Student Succeeds Act (ESSA) passed (releasing states from federal VAM-based incentives and mandates)
May, 2016: Subscribers ≈ 16,000; Hits per month ≈ 180,000*
November, 2016: Subscribers ≈ 15,000; Hits per month ≈ 130,000*
May, 2017: Subscribers ≈ 20,000; Hits per month ≈ 150,000* (also given fewer posts)
*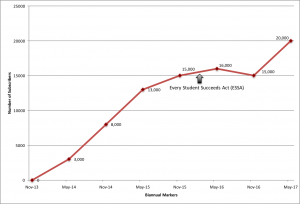 *This number is calculated by ((subscribers x average number of posts per month) + external hits per month)), although external hits may also include subscribers as analytics cannot differentiate between subscribers and hits. These two indicators are not mutually exclusive.